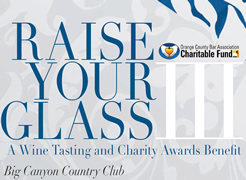 Cheers to Charity
Thank you to all who attended the Orange County Bar Association Charitable Fund's 3rd Annual "Raise Your Glass III" Wine Tasting and Charity Awards Benefit on Thursday, November 5, 2015, at Big Canyon Country Club, Newport Beach.

Click here to view a list of 2015 event sponsors.

To view photos from the event, please click here.
Apply for an OCBA Charitable Fund Grant
The Orange County Bar Association (OCBA) Charitable Fund in now accepting grant applications for 2016. Applications must be recieved by Friday, December 4, 2015. Grants will be awarded in the first quarter of 2016. Click here to download a grant application.
The 2016 Grant Giving Reception will be held on Tuesday, February 23, 2016.
Click here for a full list of 2015 grant recipients. Click here to view photos from last year's reception.
32nd Annual Charity Golf Tournament
Thursday, March 31, 2016
Pelican Hill Golf Club, Newport Coast
Tee up for charity at this popular event! Golf not your game? Skip the links and join us for the Awards Reception. Download the flyer for more information or register online.
Click here to view photos from last year's event.